Venezuelan Chess will prepare for a new challengeplatforms, Children's National Championship, great sporting event that will be organized by the Venezuelan Chess Federation (FVA) and which has been announced to take place in the majestic Hotel San Miguel Golf&Club in Maturin of the next March 08 to 12 and where they will meet emerging talents of the country in pursuit of achieving classification for different international competitions that are organized by the International Chess Federation (FIDE) and FIDE America.
The movement of the boards has been intense at the national level, with the organization of multiple activities to elect the representatives of each StateStates such as Barinas with its active president Ronald DiazAs well as Capital District with Giovanni Hernández leading the Tournament held at PDVSA La Estancia. as Anzoátegui highlighted the Chess Academy of Master Pablo Acuña. as Aragua the event was coordinated by the experienced leader Pedro Alejos.
The Categories that will be disputed in the Monagas State include Sub8, Sub 10, Sub 12 and Sub 14 both in Absolute and Female, other States that carried out their activity successfully were Falcón, Lara, Táchira, Apure, Trujillo, Miranda, Carabobo and La Guaira (which was characterized by the excellent Tournament held in the VIP Events Hall and that had the renowned Professor José Kempis as one of its promoters), from this space we applaud this wonderful initiative of Sowing Chess at the national level.
For more information please visit the following link:
Let's see below a excellent and instructive Study of the brilliant Italian-Venezuelan Master Candidate (CM) Giuseppe Abatantuono Lattarulo, White prevails in the position indicated in the Diagram with originality and fantasy in the joint attack of the light forces.
The complete Analysis can be seen in the following Viewer:
https://share.chessbase.com/SharedGames/share/?p=V02xW5ZSD0Jw0VIeMbyw8CCZudwbBK5EDEwB/NnEP+lI1NLa/BNJgcm5t1VQjWVa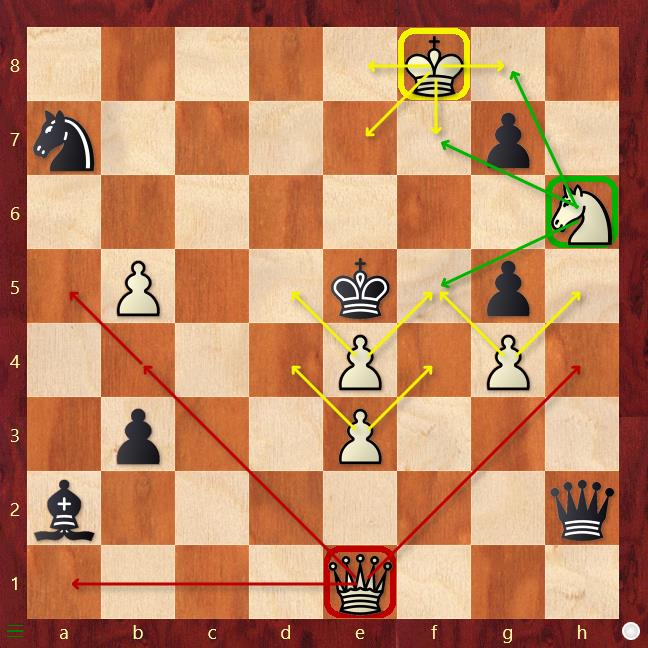 1.Qb4!! (a powerful move that is the beginning of the Winning Plan) 1… b2 (1…gxh6 2.Qe7mate with an elegant white trump; 1…Kf6 2.Qe7+ Kg6 3.Qxg7mate with a prosaic trump; 1…Qxh6 2.Qd4+ Ke6 3.Qd5+ Kf6 4.Qf5mate with a mate in the middle of the board 1…Qf4+ 2.exf4+ Kxf4 3.e5+ wins, 1…Nc8 2.Qd4+ Ke6 3.Qd5+ Kf6 4.Qf5mate;1…Qf2+ 2.Nf5!!, each piece fulfills its role and wins after a) 2.Nf7+! also wins after 2…Qxf7+ 3.Kxf7 b2+ 4.Ke7 b1=Q (4…Nc8+ 5.Kd7 b1=Q (5…Nb6+ 6.Kd8 b1=Q 7.Qe7+ (7.Qd4+ Ke6 8.Qxb6+ Kf7) 7 …Be6 8.Qxg7+ Kd6 (8…Kxe4 9.Qg6+ wins) 9.Qc7mate) 6.Qd4mate) 5.Qd4mate with a geometric mate; b) 2.Kxg7?! Qf6+?; c) 2.Ke8?? Qxe3!; d) 2.Kg8?? b2+! black wins; 2…Nc8 (2…Nc6) 3.Qd4+! Ke6 4.Ke8!! a beautiful Stratagem that leads to mate after (4.Qd5+! Kf6 5.e5+ Kg6 6.Qf7+ Kh7 7.Qxg7mate; 4.b6 b2! 5.b7 b1=Q 6.bxc8=Q#) 4…Nd6+ (4…Qxf5 5.exf5mate (5.gxf5mate) ) 5.Qxd6mate; 1…Nc6 2.bxc6 wins) 2.Nf7+!! (a brilliant complement, also wins 2.Qd4+ Ke6 3.Nf7! with Zugzwang) 2…Bxf7 (if 2…Ke6 3.Qe7mate; after 2…Kf6 3.Qe7+ Kg6 4.Qxg5+ Kh7 5.Qxg7mate) 3.Qd4+ Ke6 4.Qd5+ Kf6 5.Qf5mate (A nice auction of this interesting Study composed in El Paraíso in Caracas on February 07, 2023) 1-0
For any questions or queries please write to email [email protected]